A+
A-
A
Main Content
How Tobacco Negatively Impacts Your Oral Health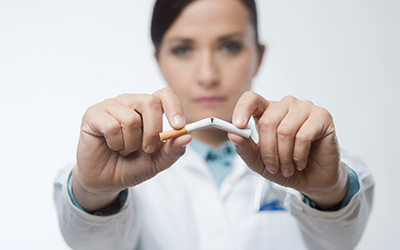 Smoking cigarettes, chewing tobacco or any other type of tobacco ingestion is known to cause health problems and cancer. However, these substances can also have a negative impact on your oral health and your smile as well. An increased risk of tooth decay, gum disease, tooth loss, and even oral cancer are just a few of the dental ailments associated with the use of tobacco products.
How Smoking Damages Oral Health
Below are a few of the ways that tobacco usage can damage your oral and dental health:
Tobacco use can increase the amount of tartar buildup on the tooth enamel. Tartar, which is hardened plaque, will cause the teeth to become yellowed and stained, and can cause chronic bad breath.
Smoking and tobacco use can make it more difficult for your mouth to heal after a tooth extraction, root canal, or any other type of oral surgery.
Tobacco use will cause the gums to recede, which will expose the sensitive tooth roots underneath. This will cause tooth sensitivity and gingivitis.
Lastly, tobacco use drastically increases the risk that you'll develop oral cancer.
Catching and treating oral cancer early on can improve the prognosis. Because of this, it's important to be aware of the signs and symptoms of oral cancer, especially if you use tobacco.
Signs & Symptoms of Oral Cancer
Numbness, tingling, or pain in the lips or mouth
Tenderness, burning sensation, or open sores that won't heal
Trouble chewing or swallowing
Bumps or lumps inside the mouth
Color changes in the soft tissues of the mouth – white, gray, or red patches
For more information on how smoking and tobacco can damage your gum tissue and contribute to gum disease and periodontitis, or if you believe you may already be suffering from gingivitis, please contact Coastal Periodontics at our Portsmouth, New Hampshire office.