A+
A-
A
Main Content
Maintaining Good Oral Hygiene While Traveling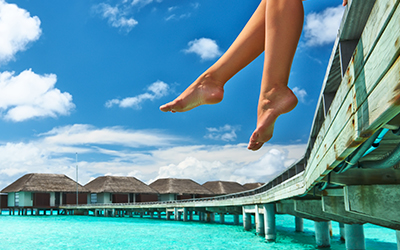 It's just as important to care for your oral hygiene while traveling as it is during your everyday routine. In fact, a change in routine or diet makes it even more important to care for your teeth. Luckily, it's quite simple to keep your oral health in mind while you're away from home.
Oral Hygiene Habits While Traveling
Below are a few key ways to make sure your teeth are healthy even when you're traveling or on vacation:
Visit the Dentist – Nothing can kill a vacation like a toothache. Before traveling, make sure your mouth is healthy by visiting your dentist and getting any potential problems taken care of.
Pack Smart – Travel sizes make it easier than ever to take along all of your oral hygiene tools. Invest in a dental hygiene travel bag that includes toothpaste, floss, a toothbrush, and mouthwash.
Eat Healthy – If you're traveling or on vacation, it can be tempting to indulge yourself. We're not saying that you shouldn't enjoy yourself, but if you eat an especially sugar meal or beverage, be sure to brush your teeth afterward.
Keep Routine – Lastly, make sure you're caring for your teeth at least twice a day as normal. Make sure your oral health is being cared for each morning and night while you're away from home.
It's always important to make sure your dental health is a priority. For more information, or to make an appointment with our skilled periodontist, please contact Coastal Periodontics. Our office is located here in Portsmouth, NH.