A+
A-
A
Main Content
Sinusitis vs. Tooth-aches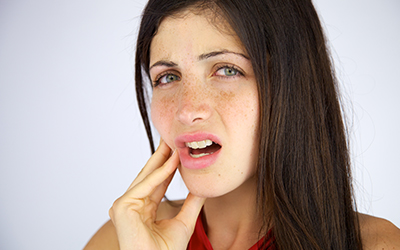 Many patients are surprised to learn that there is a connection between sinus issues and tooth pain. If you begin to have pain in a tooth you may automatically assume you have a dental cavity or infection. However, tooth pain is often referred pain from the sinuses and may be caused by sinus problems.
The maxillary sinus is the most likely to impact your oral health. It's common to experience congestion and pressure in the maxillary sinus, but it will usually only cause some mild discomfort. However, in some instances, the pressure can become extreme and press on the nerves of the teeth, causing pain. It's very common for mouth pain to accompany sinus flare-ups.
Tooth Pain or Sinusitis?
Dentists are obviously aware of this connection and they know how to tell if the pain you're experiencing is indicative of a dental problem or simply referred sinus pain. Some of the indicators include:
Multiple teeth suddenly aching all at once
No obvious signs of cavities or decay in oral X-rays
Sudden temperature sensitivity in the teeth
Close proximity of the maxillary sinus to the roots of the problem teeth
Even if you think it may be your sinuses, it's still a good idea to visit your regular dentist to rule out any dental problems. Here at Coastal Periodontics, your comfort is important to us. To make an appointment, please call our Portsmouth, New Hampshire office.