A+
A-
A
Main Content
Smiles Makeovers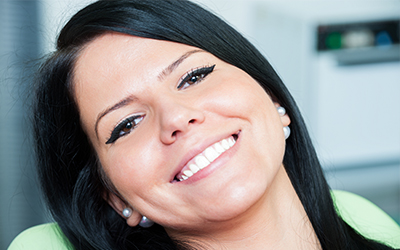 A smile makeover is a comprehensive and personalized treatment plan that can bring out the natural beauty of your smile. A smile makeover consists of a few cosmetic and restorative dental treatments that, when combined, can help you achieve a healthy, beautiful smile. Depending on your personal dental needs and goals, your smile makeover may include any combinations of the following treatments:
Dental fillings
Dental crowns
Dental bridges
Dental bonding
Dental implants
Teeth whitening
Porcelain veneers
Dentures (complete or partial)
By combining multiple cosmetic treatments, we can ensure that you achieve the beautiful, healthy smile of your dreams.
Reasons for a Smile Makeover
Below are a few common dental issues and complaints, all of which can be fixed with a smile makeover!
Very worn teeth
Missing teeth
Slightly crooked teeth
Gapped teeth
Misshapen teeth
Decayed or damaged teeth
Broken, fractured or chipped teeth
Yellowed, discolored or stained teeth
Based on your individual dental needs and desires, your dental health professionals will work together to help you create a personalized treatment plan that meets all of your goals. If you are concerned or self-conscious about any aspect of your smile, please contact Coastal Periodontics here in Portsmouth, New Hampshire!