A+
A-
A
Main Content
Three Questions to Ask Your Dentist at Your Next Checkup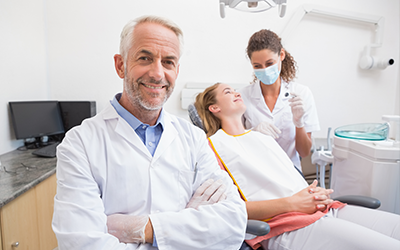 There are ways to make the most out of your next visit to your general dentist. For example, asking a few simple questions can help you maximize your time in the dental chair as well as learn more about your dental health and how to care for it.
Dental Exam Questions to Ask Your Dentist
Below are three questions to ask your dentist in order to feel more educated about your oral health:
How is my overall oral health?
Asking your dentist about your overall dental health will help you get a broader view of what you're doing well and what you could still be working on. This is also a great way for you to figure out if any other areas of your lifestyle are contributing to or damaging your dental health.

How can I improve my oral health?
Once you know where you stand with your oral health, you should pay close attention to any specific treatment recommended for you by your dentist. Your dentist can also help you learn if you're brushing and flossing correctly, using the right kind of toothpaste or if you need to incorporate anything else into your oral hygiene routine.

What do I need to ask my family doctor about?
Lastly, your oral health is linked closely to your overall health. Your dentist may be able to spot the signs of a non-dental medical problem that you need to talk to your doctor about. Asking this question will make sure that your teeth and overall health are all taken care of.
If you have specific concerns about your gum health or if you've been referred to our office by your general dentist, please contact Coastal Periodontics. Our periodontal office is located in Portsmouth, New Hampshire.