A+
A-
A
Main Content
When Should You Visit a Periodontist?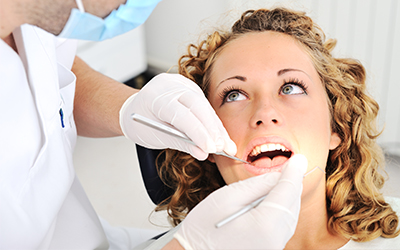 Periodontics is a field of dentistry that specializes in the prevention, diagnosis, and treatment of periodontal disease and placement of dental implants. Periodontists also gain expertise in the treatment of oral inflammation, as they receive extensive training in these areas by studying for at least three additional years beyond dental school.
Although a general dentist can manage some of their patients' periodontal needs, the patient should visit a periodontist if more severe signs start to appear. Following are some of the signs that you should see a periodontist as soon as possible.
Your Gums are Red, Swollen, or Bleeding
One of the most telling signs of periodontal disease is red, swollen, or bleeding gums. If you notice that your gums are bleeding when you floss or brush, or if they are becoming red and swollen, seek consultation from a qualified periodontist. It is better to address such issues before they evolve into painful and expensive problems.
Your Bite is Different
If you notice that your teeth feel different while chewing, brushing, or even talking, then it is time to see a periodontist. A change in bite pattern can point towards specific issues that can cause long-term problems if left untreated. A periodontist can determine the reason behind this change, and they will further suggest the appropriate treatment to cure the issue.
You Have Receding Gums
As we age, our gums naturally recede a little. However, this shouldn't be very noticeable. If your teeth look noticeably longer, this could be a sign of advanced gum recession, which could also be a side effect of periodontal disease. To know for sure, book an appointment with a periodontist as soon as possible.
If you notice any of the above symptoms, book an appointment with Dr. Kate Wilson at the Coastal Periodontics as soon as possible. She can guide you through any periodontal issues you may have.