A+
A-
A
Main Content
4 Facts to Consider About the Dental Implant Recovery Process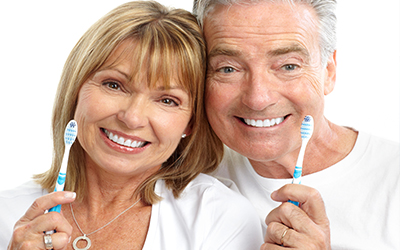 Over eight million Americans have picked dental implants for a more long-lasting answer for their smiles. In fact, dental implants are the next best alternative after natural teeth. The process of receiving a dental implant may take more time than you think; however, it is definitely worth it in the end!
Let's get into some facts about dental implants, shall we?
1. Recovery Time Will Vary
The measure of time it will take for you to recover from getting a dental implant will rely upon the type of implant you get and any additional procedures you may require.
2. Bone Grafting
Another factor to consider when thinking about dental implants is if there is a requirement for bone grafting. Because implants are surgically placed into your jawbone, your bone must be healthy enough to support a dental implant. If your jawbone isn't thick enough or is too soft, you may require a bone graft. This can add several months to the implant process as the bone graft will need time to grow enough new bone to support the dental implant.
3. You'll Have to Change Your Diet
After your dental implant has been placed, you should stay away from particular food and beverages so your implant has the opportunity to recuperate. Acidic foods and drinks are to be avoided at all costs. Such foods include lemons, tomatoes, alcohol, pizza, etc.
4. Oral Hygiene Needs to be Maintained
On the off chance that you already brush and floss every day, this will be no issue for you. You should proceed with your oral hygiene routine. However, if you find that it is too hard or excruciating to open your mouth, your dentist may suggest rinsing your mouth with salt water or a sterile mouthwash to assist with forestalling any contamination.
Please visit Coastal Periodontics at your earliest if you're thinking about dental implants. Dr. Kate Wilson will gladly answer all your questions by offering you the best solutions.