A+
A-
A
Main Content
Are Gummy Vitamins Bad for Teeth?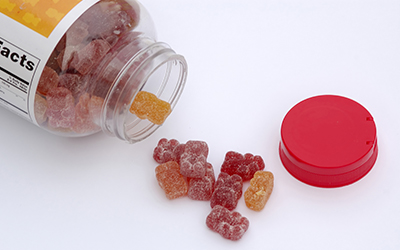 Gummy vitamins came out in the late '60s and have steadily gained popularity over time. Vitamins were put in gummy form to make it easier for children and those who have trouble swallowing pills while still delivering essential vitamins and minerals.
While gummy vitamins provide many benefits, there are also a few downsides. Many people don't consider the effect they may have on dental health.
Disadvantages of Gummy Vitamins
Even if gummy vitamins provide your family with nutrition supplements, this doesn't mean they're great for your dental health! These gummy vitamins contain harmful ingredients like sugar and glucose syrups. Even sugar-free gummies are high in citric acid which can damage the tooth enamel and cause dental cavities.
Ingredients aside, gummies, in general, aren't great for the teeth. Sticky substances more easily cling to the contours and crevices of the teeth, causing dental cavities. If available, we recommend other chewable vitamins over gummy ones.
Always discuss the use of vitamins with your child's pediatrician.
To make an appointment at our Portsmouth, NH periodontics office, please contact Coastal Periodontics today!