A+
A-
A
Main Content
Bad Breath and Dental Braces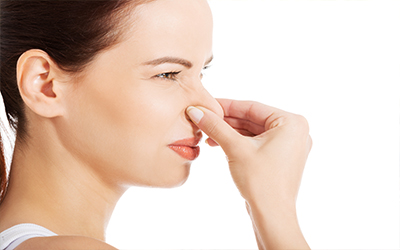 Every day, happy dental patients get their braces removed to reveal a straight and beautiful smile! Ask anyone who has had braces, and they'll tell you that the time spent wearing braces was worth it in the end! Just because braces produce gorgeous smiles, they're still tough to live with while you're wearing them. These annoyances include flossing, having to avoid certain food, and bad breath.
How Can I Keep My Breath Fresh While Wearing Braces?
Bad breath is an embarrassing symptom, but there are things you can do to avoid this problem while wearing braces. Below are a few things that can help you avoid bad breath:
Avoid sugar – Foods and drinks full of sugar will contribute to bad breath! To avoid this unpleasantness, stick with grains, protein, dairy, and produce, while still making sure to stick with braces-safe choices.
Brush often – Floss and brush your teeth and tongue first thing in the morning, after each meal, and again before bed. Removing any food particles from your wires and brackets will help keep your breath smelling fresh.
Use mouthwash –Mouthwash gets rid of the bacteria that can cause cavities and bad breath. An added benefit is that the minty fresh taste will keep your breath smelling great!
Drink lots of water – If your mouth is feeling dry, you might be at risk for bad breath. If you aren't staying hydrated, your saliva production slows; this will lead to bad breath.
The best tip we can give you regarding keeping your fresh breath is practicing good oral hygiene every day!
If you're concerned about your gum health or believe you have gingivitis, please contact Coastal Periodontics. The earlier gum disease is detected, the better! Make an appointment to get your gum tissue evaluated at our Portsmouth, NH Periodontics office today!