A+
A-
A
Main Content
Childhood Tooth Sensitivity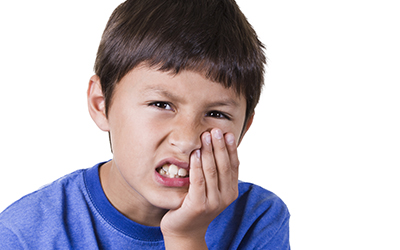 Sensitive teeth can be miserable, and even more so for children. Tooth sensitivity leads to pain in the teeth while chewing food, speaking, and even breathing air. Tooth sensitivity is caused when the tooth enamel is worn down. This allows the nerves underneath the enamel to become exposed.
However, there are a few ways for you to help your child ease the pain associated with sensitive teeth and learn how to avoid the problems altogether.
Decreasing or Preventing Pain Associated with Tooth Sensitivity
Switch Toothpaste – There are plenty of gentle toothpaste brands for people who suffer from tooth sensitivity. Before purchasing these types of toothpaste, please make sure that they include strontium chloride or potassium nitrate, as these are the ingredients that help to block pain signals to the nerves of the teeth.
Replace Toothbrush – You should be regularly changing your family's toothbrushes anyway, but if tooth sensitivity comes on quickly, the toothbrush may be to blame. Make sure your children are brushing gentle with a soft-bristled brush. There are even certain brands who create toothbrushes for those with sensitive teeth.
Keep a Food Diary – There are certain foods and situations that can cause a flare-up of tooth sensitivity. It can be helpful to keep track of what your child is eating and drinking in order to see a correlation between foods and flare-ups. Once you know what causes the sensitivity to worsen, you can know what to help your child avoid.
Visit the Pediatric Dentist – In the end, if you're finding that nothing else is helping with your child's tooth sensitivity issue, please contact his or her pediatric dental office to make an appointment.
Here at Coastal Periodontics, we want your child to enjoy a happy, comfortable, and cavity-free childhood. For more information about the health of your gum tissue or to make an appointment with Dr. Kate Wilson, please contact Coastal Periodontics here in Portsmouth, New Hampshire.