A+
A-
A
Main Content
Dentures vs. Dental Implants – The Pros and Cons of Each Option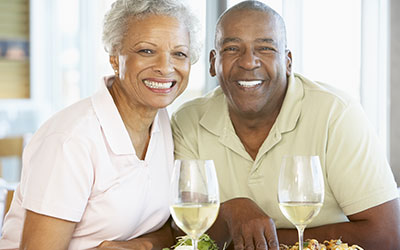 As people age, it's natural to experience tooth loss for one reason or another. Unfortunately, having missing teeth can cause embarrassment as well as trouble eating and speaking properly. There are a few ways for a smile to be restored to its previous look and function. When multiple or all of the teeth are missing, there are two main options; dentures and dental implants.
Pros and Cons of Dentures
Dentures are false teeth mounted on a flesh-colored base. In the past, dentures were the only option for people who had advanced tooth loss. To keep dentures in place, you need to use denture paste or adhesive. If you skip this step, the dentures may slip out during eating and speaking, which can result in embarrassing situations.
If you have weak or unhealthy jawbones or gum tissue, dentures are a great way to restore the smile without damaging the remaining bone. The upfront financial cost of dentures is much less than dental implants, but keep in mind that dentures will need to be replaced every few years as you age and your bone structure changes.
Pros and Cons of Dental Implants
Unlike dentures, which are just the façade of natural teeth, dental implants serve as a real replacement. Dental implants are posts that are surgically implanted directly into the jaw to serve as an anchor on which dental crowns are mounted. Dental implants are a long-term solution to tooth loss and won't require the maintenance that dentures do. Whereas dentures need to be cleaned, removed, replaced, and need adhesives to stay in place, dental implants are cared for in the same way as natural teeth.
While implants do cost more money upfront than dentures do, the additional costs of dentures will eventually catch up. These additional costs include cleaning solutions, adhesives, repairs, and eventual denture replacements. Because of this, dental implants may be a better financial option in the long run.
Before you make a decision about which option is right for you, please make sure to ask your dental professional for a recommendation based on your circumstances, finances, and personal preferences. For more information or to make an appointment with Dr. Kate Wilson, please contact Coastal Periodontics located here in Portsmouth, New Hampshire.