A+
A-
A
Main Content
Dental Health Problems Facing the Elderly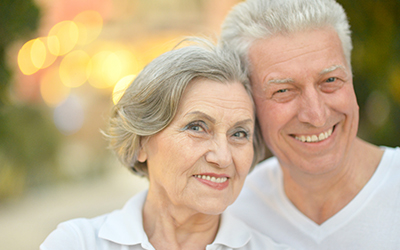 Senior citizens are vulnerable to many health problems, and because of this, oral health and hygiene often fall through the cracks. However, neurological problems or arthritis can make it more difficult for the elderly to properly brush and floss their teeth, increasing the odds of dental problems even more.
Common Oral Health Problems for Senior Citizens
Below are some of the most common oral health problems facing the elderly and how they can be avoided:
Dental Cavities – Tooth decay is a common dental problem for anyone, no matter what age. However, it's been discovered that around 90-92% of people over the age of 65 are currently suffering from dental cavities. We find this statistic to be staggering. We recommend that everyone, no matter how young or old, should be visiting the dentist every six months for a dental cleaning and a checkup. The earlier dental problems are caught, the simpler the treatment.
Gum Disease – While it's possible for gum disease to affect anyone, it's especially common in older people. Gum disease is asymptomatic in the early stages, which means it's all the more important to visit the dentist regularly so that he or she can check for the early signs. In the meantime, keep an eye out for swollen or red gum tissue, or for gums that bleed easily during your oral hygiene routine.
Difficulty Eating – Many oral health problems, including some of the above, can cause difficulty when trying to eat. Other problems can include ill-fitting dentures or missing teeth. We know that many elderly people are sacrificing the consistency and quality of their meals to accommodate dental problems. This doesn't have to be the case!
The best way to make sure your teeth are healthy at any age is to practice good oral hygiene. This means brushing twice a day, flossing daily, and making sure to visit your general dentist every six months for a dental cleaning and a checkup.
If you're having difficulty when brushing your teeth, we recommend looking into an electric toothbrush. This will prevent the need to bend your hands and wrists in awkward angles while attempting to brush.
To schedule an appointment with Dr. Kate Wilson, please contact Coastal Periodontics located here in Portsmouth, NH.