A+
A-
A
Main Content
Dental Implant Failure & How To Avoid It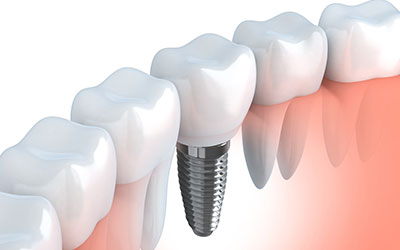 Just like any other surgical procedure, there are factors that can cause complications for your dental implants. In rare cases, the dental implants may even fail. We don't want to worry you, as over 95% of dental implants are successful (this number bumps up to 98% if the implants are properly cared for), and placed without incident. Additionally, the majority of problems that do occur are easily resolved with quick intervention. However, there are a few rare but serious complications to keep an eye out for.
Dental Implant Failure
Below are a few of the very rare complications of dental implant surgery:
Allergic Reaction – Dental implants are made of titanium alloy, which contains trace amounts of nickel. If you know you have a sensitivity to nickel, please make sure we know about it ahead of time. An allergic reaction may cause itchiness or chronic fatigue syndrome.
Osseointegration Failure – If the implant doesn't properly fuse with the jawbone, it may become loose and can fall out. This can be caused by insufficient bone mass or density and can even be caused by a rare reaction to anesthesia. Please let us know if the implant feels like it's loosening.
Infection – Like any surgery, there is a small risk of infection that goes along with dental implant surgery. For smokers, this risk is increased quite a bit. Keep an eye out for excessive swelling, bleeding that persists for days after surgery, or a fever. Contact our office immediately if you believe you have an infection.
Taking prompt action is important to resolving these problems as quickly and painlessly as possible. This is why it's important to be aware of them and know what to look out for.
The best way to ensure successful dental implantation is by following post-op instructions, practicing good oral hygiene, and keeping follow-up appointment so that Dr. Kate Wilson can make sure your healing properly.
To make an appointment, or if you have concerns about your dental implants, please contact Coastal Periodontics at our Portsmouth, New Hampshire office.