A+
A-
A
Main Content
Performing Oral Cancer Self-Checks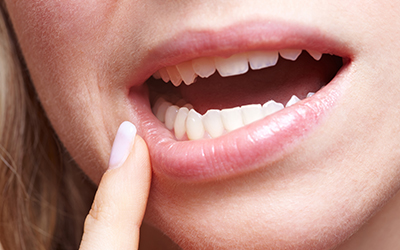 While oral cancer can be a scary diagnosis, the prognosis is much better the earlier the cancer is caught. Here at Coastal Periodontics, we want all of our patients to live long and healthy lives. Because of this, we've put together a list of some early warning signs of oral cancer, as well as a checklist to use when performing oral cancer self-checks.
Early Signs of Oral Cancer
Some people are at a higher risk for oral cancer because of smoking, chewing tobacco, abuse of alcohol, or the habit of biting the inner cheeks or lips. If you are in any of the above categories, it's especially important to know the oral cancer warning signs. These signs include:
Lumps or swelling in any of the soft tissues of the mouth
Bleeding in the mouth that takes too long to stop
Discoloration in the mouth, including white or red patches
Sores in the mouth or on the lips that don't health within a week or two
Numbness or pain in the mouth, neck, or face
Performing an Oral Cancer Self-Check
Each month you should perform an oral cancer self-check. Focus on the following 6 areas:
Face – Examine the skin of the face and note any sores, bumps, or color changes.
Neck – Press along the sides and front of the neck to feel for bumps or tenderness.
Lips – Check the inside and outside of the lips for color changes, sores, or lumps.
Cheeks – Check the insides of the cheeks for color changes, lumps, sores, or pain.
Tongue – Examine the tongue for swelling, bumps, texture changes, or discoloration.
Roof of the mouth – Check for sores, bumps, or color changes on the roof of the mouth.
For more information about oral cancer or to make an appointment with Dr. Kate Wilson here at Coastal Periodontics. Our periodontics office is located in Portsmouth, New Hampshire.