A+
A-
A
Main Content
Diabetes and Gum Disease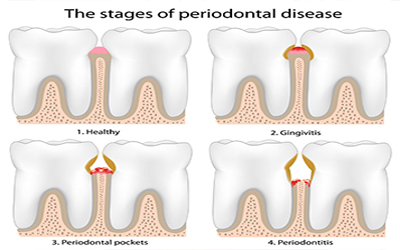 It may surprise many people to hear that diabetes and gum disease are very closely linked. Your diabetes can increase the likelihood that you'll develop gum disease or periodontal disease. In fact, one-third of diabetics will eventually suffer from periodontal disease (which is an advanced form of gum disease). Even more will be suffering from a milder form of gum disease.
Periodontal Disease
Periodontal disease is an advanced form of gum disease. When the plaque and bacteria on your teeth aren't properly brushed away, they will begin to harden into tartar. The tartar cannot be removed without the help of a dental professional. Once it begins to accumulate, tartar irritates the gum tissue, causing gum irritation, bleeding, redness, swelling, and pain in the gums.
As the gum disease worsens and progresses, the tissues will start to pull away from the teeth. This allows small pockets to form between the teeth and gums, letting the bacteria, plaque, and tartar accumulate inside. This causes an infection, which will eventually break down the bones and ligaments holding the teeth in place. Meaning that periodontal disease will eventually cause the teeth to fall out if not treated properly.
Link to Diabetes
Since your diabetes can make you more vulnerable to infection and slows the healing process, you're more likely to get gum disease that progresses quickly. This makes it even more important that you visit Coastal Periodontics at the first sign of gum disease. The more quickly we can catch it, the better.
The best way to keep gum disease and periodontitis at bay is to practice good oral hygiene. This is true for all people, including those with diabetes. A proper oral hygiene routine should include the following:
Brush – Brush at least twice a day for two minutes at a time with a soft-bristled toothbrush. Don't forget to brush your gums as well as your teeth.
Floss – Flossing is the best way to keep your gums healthy. Floss at least once a day!
Toothpaste – You should be using a pea-sized amount of ADA approved fluoride toothpaste.
Dentist – Lastly, you should be visiting your dentist every 6 months for a checkup!
Here at Coastal Periodontics, your gum health is our first priority. If you think you have gum disease, please don't hesitate to contact our Portsmouth, New Hampshire periodontics office today! Serving Portsmouth & Newington oral surgery patient needs.