A+
A-
A
Main Content
How to Care for Your Teeth During the Holidays?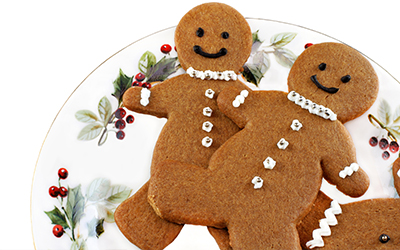 The holiday season is upon us. This means it is the official season to indulge in all the festive treats and candies that you can get your hands on. Unfortunately, however, this indulgence can take a toll on your waistline and the health of your teeth. And while a few days of healthy eating after the holiday season can reverse the damage to your waistline, things are a bit more complex when it comes to your oral health.
Most of the damage that your teeth experience is at least semi-permanent, which means that it takes a long while for your teeth to recover from the damage. In fact, just skipping brushing for one night can cause lasting damage to your teeth.
With all the increased sugar intake during the holidays, here are some tips to protect your teeth during the holidays.
Did you know that sugar itself isn't bad for your teeth? It is the amount of time it stays in your mouth that does the damage. A good way to minimize the damage is to rinse your mouth soon after you have any sugary treat or drink.
On the other hand, Toffees and caramels are extremely difficult to get rid of. They stick around in the nooks and crannies of your mouth and are likely not to come off until you thoroughly floss your gums. Therefore, it is best to keep your consumption of these types of candies to a minimum. When you do consume them, follow it up by brushing and flossing your teeth.
As always, make sure to practice oral hygiene rigorously. It may seem easier to just fall on the bed after a long tiring day of holiday festivities instead of dragging yourself to the bathroom to brush your teeth, but it is necessary. Brush at least two to three times a day during the holiday season, and make sure to floss at least once a day.
If you're looking for a good periodontist in Newington, consider visiting Coastal Periodontics. They are one of the best periodontists in the area and will guide you through any dental issues that you may have.