A+
A-
A
Main Content
What is a Dental Implant?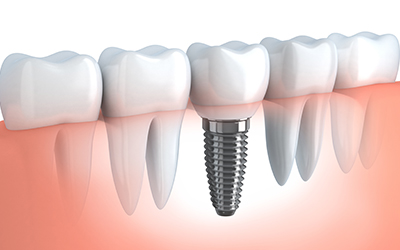 Missing teeth can cause a lot of issues. You may find it difficult to bite, chew, and even talk. And depending on which tooth is missing, it may even be a little embarrassing. Therefore, the best course of action is to try and replace them. However, you want something that looks and feels like your actual teeth.
You don't want to deal with any sliding, moving, or falling. Not only do you want them to fuse into your jawbone, but you want them to function like real teeth.
Dental Implants
If you're looking for the closest replacement to your natural teeth, dental implants are the best option to consider. Dental implants are metal fixtures that are surgically fastened below your gums into the jawbone. Afterward, artificial teeth are mounted onto these implants.
A process known as osseointegration – where the bone fuses into the metal – enables the metal implants to become anchored to your bone. This provides support to your artificial teeth while eating and talking.
Maintenance of Dental Implants
Dental implants don't require any more maintenance than your regular teeth – provided that you do take all the necessary steps to take care of your teeth. In addition to brushing your teeth with toothpaste and flossing at least once a day, it is important to stay regular with your bi-yearly dental visits.
Make sure to pay special attention to the abutment area of your implant. If you notice anything irregular, visit your dentist as soon as possible.
Looking to get some dental implants in Portsmouth, NH? Head over to Coastal Periodontics for a free consultation today.