A+
A-
A
Main Content
How to Quit Your Nail-Biting Habit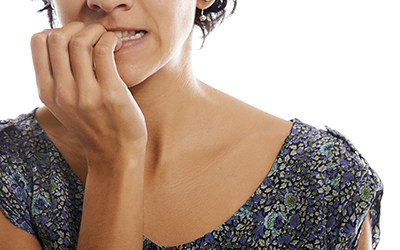 Nail-biting can damage your fingers by leaving the fingertips and nail beds red, swollen, and painful. However, nail-biting can also have an adverse effect on your dental health as well. The Academy of General Dentistry has found that people who bite their nails have a higher risk of developing bruxism (the subconscious grinding and clenching of the teeth), which can lead to headaches, gum recession, tooth sensitivity, and even the loss of your teeth.
Curing Nail Biting
Nail-biting can be an incredibly difficult habit to break and is usually the result of stress or anxiety. While quitting your nail-biting habit is tough, it's not impossible. Below are a few tips to keep in mind when trying to stop biting your nails:
Know your triggers – Stressful or emotional situations can often trigger nail-biting. Know which situations cause you stress or anxiety and try to avoid them.
Keep nails cut short – Shorter fingernails will provide you with less temptation. If the nails are too short to bite, you'll have no choice but to abstain.
Use nail polish – Many nail polishes have a bitter taste. If your nails are painted when you bite them, you'll have to deal with this bitter taste. This can often prove to be enough of a deterrent to help you quit altogether.
Relieve stress – This is much easier said than done, but we encourage you to lessen your stress. Try meditation, yoga, or deep breathing. If you still find yourself feeling anxious, use a fidget cube or a stress ball to help keep your hands busy.
Wear bandages or gloves – Lastly, if nothing is working, you can use gloves or bandages to prevent yourself from having access to your fingernails.
Biting your nails is a habit that you should try to quit, both for your dental health and your emotional health. To make an appointment with our skilled periodontist, please contact Coastal Periodontics today. Our office is located here in Portsmouth, New Hampshire.