A+
A-
A
Main Content
How Secondhand Smoke Can Damage Your Child's Dental Health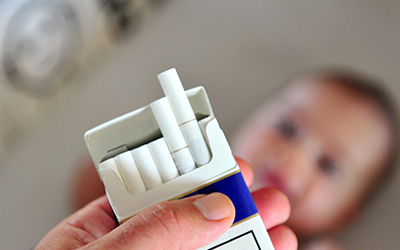 Almost all adults know how much damage can be done to their health if they smoke. What's less known is the damage that can be done to the people who are in contact with smokers, especially children. Exposure to secondhand smoke can cause very serious health risks in young children, including:
Increased risk of asthma
Increased risk of sudden infant death syndrome (SIDS)
Frequent ear infections
Varying types of respiratory illnesses
In addition to these health risks, secondhand smoke can also cause problems with your child's dental health. It's been found that children who live with smokers are at an increased risk of developing tooth decay and dental cavities. Even if you don't smoke in front of your child, he or she is still 50% more likely to suffer from dental problems than children who aren't exposed to secondhand smoke.
How Secondhand Smoke Impacts Oral Health
Tooth decay and secondhand smoke may seem like they have no connection. However, exposure to secondhand smoke affects the mouth and teeth by:
Causing the soft tissues and membranes of the mouth to become inflamed
Lowering the vitamin C levels in your child's body
Impairing the function of your child's salivary gland
Causing immune dysfunction
If your child's dental cavities and tooth decay go untreated, many more serious problems can arise. This can cause your child unnecessary pain and discomfort, and lead to expensive dental procedures to correct the problems.
No level of secondhand smoke is safe for your child or for anyone else you come in contact with. If you believe your child is suffering from dental problems, please visit your local pediatric dentist. Here at Coastal Periodontics, we encourage all of our patients to quit smoking as soon as possible. Not only with your dental health improve, but your overall health will improve as well.
To make an appointment at our Portsmouth, NH periodontics office, please give us a call today.