A+
A-
A
Main Content
Migraines & Their Link to Dental Problems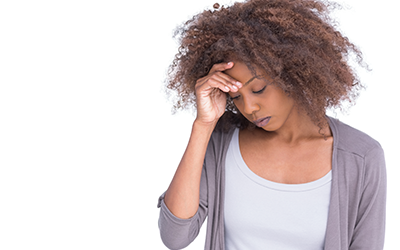 It's known that migraines can be caused by dental problems. Many dental patients who suffer from chronic headaches and migraines have found that dental work can help to eliminate or at least reduce their headaches. Here at Coastal Periodontics, we want you to know how dental treatment can help eliminate migraines and allow you to discover if dental treatment for your migraines is right for you.
Can Dental Treatment Help You with Migraines?
When trying to determine if dental treatment is a good way to decrease or eliminate your headaches, it's important that we examine your jaws for any signs of temporomandibular joint disorder, also known as TMJ. If your jaws are not properly aligned, chronic pain can result. This pain can only go away with dental treatment or therapy.
Below are a few of the things your dentist will look for when trying to determine if you suffer from TMJ:
If your bite is properly aligned
Whether your jaw joints make popping or clicking noises when opening and closing
Whether your jaw has a tendency to lock up
Any anomalies or abnormalities in the facial muscles
X-Rays of the jawbones and the face
In addition to the X-Rays, your dentist may use other procedures to determine whether or not dental treatment can help you with chronic headaches. These procedures may include MRIs or CT scans. Depending on the findings, your dental issues may be treated using a corrective mouthpiece or even oral reconstructive surgery, depending on the severity of the condition and the symptoms.
For more tips on keeping your mouth and gum tissues healthy, please don't hesitate to contact Coastal Periodontics. Our periodontics office is located here in Portsmouth, NH.