A+
A-
A
Main Content
Uses for Night Guards & Mouth Guards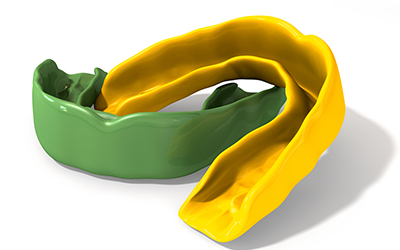 Some people use the words 'mouth guards' and 'night guards' interchangeably, but there are important and distinct differences between the two. In this blog article, we'll let you know what mouth guards and night guards are each used for. With this information, you can decide which of these protective appliances you need.
Mouthguards
Mouthguards are used to prevent injuries to the mouth during sports or other activities. A mouth guard will protect the teeth, lips, gums, and jawbone. According to the American Dental Association, you should wear a mouth guard if you participate in any of the sports or activities listed below:
Basketball
Football
Karate
Boxing
Rugby
Gymnastics
Wrestling
Hockey
Not only will a mouth guard protect your mouth, but they've also been shown to help prevent brain injuries and concussions.
Night Guards
A night guard is a device worn by sufferers of bruxism. Bruxism is the subconscious clenching or grinding of the teeth, usually during sleep. Bruxism can cause plenty of damage to the teeth, enamel, and jawbones, and if left untreated, bruxism can lead to TMJ.
Symptoms of bruxism can include:
Cracking or chipping of the teeth
Toothache with no apparent cause
Earaches with no apparent cause
Headaches or jaw aches in the morning
Loosening teeth
Clicking, popping noises, or pain when opening and closing the jaw
For those suffering from bruxism, a night guard is used to prevent the jaws from crashing or grinding into each other, causing damage and pain. You should notice an improvement in your symptoms after just a few nights of wearing your night guard.
To make an appointment here at Coastal Periodontics, please call our Portsmouth, New Hampshire office today.