A+
A-
A
Main Content
Periodontal Disease: A Lurking Threat to Your New Dental Implants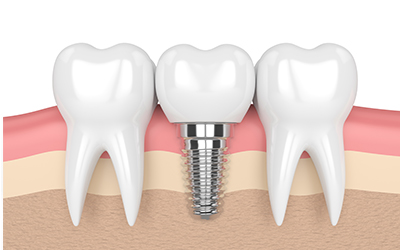 Without a doubt, dental implants are an investment in your smile. However, given their longevity, dental implants' long-term costs may be lower than other restorations whose forthright costs may be less.
Maintaining the Longevity of Your Dental Implants
However, to more readily guarantee your implants' longevity, you must clean your implants and the natural tissues supporting them to eliminate bacterial plaque. Unfortunately, this sticky biofilm leads to periodontal disease. Albeit the implant itself is unaffected by disease, but the natural tissues around it are not. As a result, periodontal disease could eventually debilitate the bone supporting the implant, causing its failure.
Such a disease, especially with implants, could progress rapidly because they don't have the natural defenses of real teeth. Our natural teeth are associated with the jaw through the periodontal ligament, a collagen network that appends the teeth and bone through tiny tissue strands of fiber. This association likewise gives access to antibodies delivered by the body to battle infections.
On the other hand, we place implants straightforwardly into the jawbone. While this makes an exceptionally secure connection, the implant will not have a similar association as teeth with the body's immune system. That implies that any infection in surrounding tissues can spread significantly more quickly and should be dealt with immediately.
The Bottom Line
To remain at bay from this particular gum disease known as peri-implantitis, it's important that you brush both your implants and its surrounding tissues like you would your natural teeth; but utilize a soft-bristled brush.
Furthermore, go to regular dental visits for intensive cleanings and checkups to stay ahead of any gum infection. By safeguarding your implants, you will ensure your smile remains bright for longer.
In quest of a top periodontist in Portsmouth, NH?
Voted to the "Top Dentist" list both in Colorado and New Hampshire since 2012, Dr. Kate Wilson at Coastal Periodontics provides cutting-edge treatments, including conventional and laser periodontal services, gum tissue esthetic procedures, bone grafting, and dental implants.