A+
A-
A
Main Content
Restoring & Maintaining Gum Health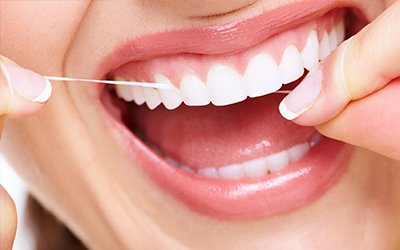 Gum disease is widespread and is notorious for occurring gradually. A few of the main reasons for gum disease are brushing too hard, hormonal changes, improper oral hygiene routine, aging, and genetics. Bacteria feed on food particles left behind after a meal, producing plaque acid. The top layer of plaque is easily removed through brushing and flossing, but overlooked plaque areas can begin to develop into tartar in as little as a few days.
Once tartar has been formed, it accumulates more bacteria and begins to irritate the tissue, causing inflammation. The gums may appear swollen, red, and may bleed easily when brushed. If this stage goes untreated, it may develop into periodontal disease. As it advances, this condition will damage the gum tissue, teeth, and the jawbone underneath.
Can Gum Tissue Be Restored?
Gum tissue doesn't grow back like other kinds of tissues, such as skin cells. This means that it's even more important to know the symptoms of gum disease and have it checked out by your dentist at the first sign of trouble,
If you develop periodontal disease, you will experience receding gums, which create small pockets where plaque and bacteria start to build up. The first treatment we recommend when it's been discovered that you have gum disease is known as root planning and scaling. These are thorough, aggressive cleaning procedures that remove hardened plaque and tartar using an ultrasonic device and specialized tools. The antibacterial gel will then be applied under the gum line, and prescription mouthwash keeps bacteria away.
Improving Gum Health
Brush your teeth and gums at least twice a day for two minutes at a time
Use an electric toothbrush and fluoride toothpaste
Floss at least once a day
Use a tongue scraper to clean your tongue
Massage your gums
Gum disease requires monitoring and diligent attention. Healthy gums contribute to overall health. To schedule a Portsmouth, New Hampshire scaling and root planing procedure, please contact Coastal Periodontics today!