A+
A-
A
Main Content
Tooth Sensitivity Treatments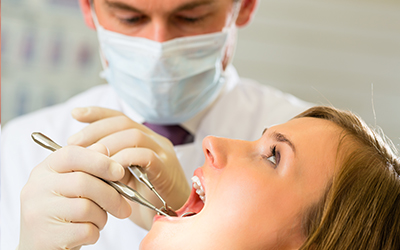 If you've ever had something hot or cold and felt pain or discomfort, it could be a sign of a cavity. However, it could also be a sign of tooth sensitivity. Tooth sensitivity, also known as dentin hypersensitivity, is pain and discomfort when your teeth come into contact with hot or cold temperatures. While you can take steps like switching to a soft toothbrush and desensitizing toothpaste and mouthwash, this doesn't always work. However, there are various tooth sensitivity treatments that can help. We've discussed the most popular ones below.
Fluoride Treatments
One popular treatment for tooth sensitivity is using fluoride. Fluoride helps re-harden your enamel and helps soothe tooth sensitivity. This is usually available in high-fluoride toothpaste and mouthwash but is also available as an in-office treatment. Your dentist can apply fluoride gel or varnish to your teeth to provide much-needed relief.
Surgical Gum Graft
The tooth sensitivity treatment you get depends on the cause of the sensitivity. If you're feeling pain or discomfort because of lost gum tissue, a surgical gum graft can help. An experienced periodontist can take tissue from other parts of your mouth and build up the lost gum tissue.
Dental Bonding
Dental bonding, or sealant, is another effective tooth sensitivity treatment. If your roots are exposed, this treatment consists of applying bonding resin which forms a barrier and protects you from sensitivity.
Root Canal
In cases of extreme tooth sensitivity, your dentist may suggest a root canal. This procedure targets the dental pulp and is a highly effective way to eliminate tooth sensitivity. However, this is a somewhat extreme option and should be discussed with an experienced dentist beforehand.
If you're in the Portsmouth, NH area, Dr. Kate Wilson at Coastal Periodontics can help you with all your dental needs. She specializes in bone grafting, dental implants, and dental extractions. She can discuss tooth sensitivity treatment options with you in detail. If you'd like to schedule an appointment, call Coastal Periodontics at 603-427-8383 or contact us online here.