A+
A-
A
Main Content
When Do I Replace My Toothbrush?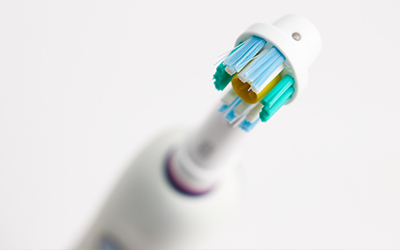 Most of us know that our toothbrushes aren't meant to last forever. However, it can be hard to determine when the beloved soft bristles are nearing the end of their lifespan. According to toothbrush manufacturer guidelines and dentist recommendations, you should swap your existing toothbrush for a new one every 3 to 4 months. Here are some signs it's time to break up with your current toothbrush and bring home a new one:
You have been sick.
You have been storing your toothbrush in a travel container.
The bristles of your toothbrush are falling out, bent, frayed, or unusually stiff.
You have dropped the toothbrush.
Your toothbrush touched someone else's toothbrush.
What Happens If I Don't Change My Toothbrush?
Over time and usage, your toothbrush's bristles will weaken and will begin to twist and bend in different directions. This is known as bristle flaring and occurs due to unwashed toothpaste, moisture, and brushing motion. It can affect your toothbrush's ability to effectively remove plaque and brush food aside, allowing it to build up and lead to tooth decay and gum disease.
Easy Reminders for When to Change Your Toothbrush
It isn't easy to remember exactly when the 12 to 16 weeks recommendation time is up to replace your toothbrush outside of the discolored and worn-out bristles. So here are a few simple tips and tricks to keep you on schedule:
When you buy your toothbrush, place a reminder on the calendar 12 weeks down the road.
Replace your toothbrush on the first day of every changing season.
Change your toothbrush on every scheduled visit to the dentist after every 3 to 4 months.
Wrapping It Up!
Your toothbrush is a significant part of your oral hygiene. To maintain your toothbrush and make the most of its lifespan, make sure to store it upright and let it air dry. Also, plan to replace your toothbrush every 3 to 4 months. You can use a calendar to mark the day of purchase so that you remember when it's time to swap the old one for a new one!
For more information about dental hygiene, contact our Periodontal Office in Portsmouth, NH: 603-427-8383!