A+
A-
A
Main Content
Tooth Stains and What You Can Do About Them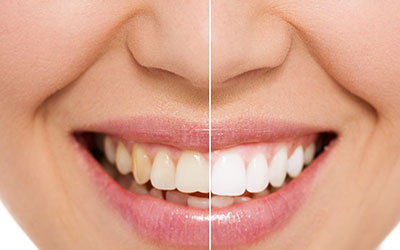 There are a few different ways your teeth can become discolored. This occurs either by stains on the surface of the teeth, changes happening instead of the tooth or just a natural part of aging. Below are the three mains reasons for tooth discoloration:
Extrinsic Stains — These types of stains occur on the outer layer of the tooth (also called the enamel. Extrinsic stains can be caused by tobacco, coffee, red wines, or dark sodas.
Intrinsic Stains — Intrinsic stains are caused when the inside of a tooth (also called the dentin) darkens or yellows over time. Intrinsic stains can happen when:
Age-Related Stains — Age-related stains are caused by both extrinsic and intrinsic stains together. Dentin will naturally yellow over time and the enamel also wears down over time. This allows the yellow dentin to become more visible.
You took tetracycline antibiotics in early childhood
You ingested too much fluoride in early childhood
Trauma occurred to the affected tooth while it was developing
Internal bleeding inside the tooth, also caused by trauma
You suffer from dentinogenesis imperfecta
Certain discolorations can be removed at our office; extrinsic stains are especially easy to remove. However, many stains are permanent. In these cases, you can whiten your teeth using a bleaching gel. For the most severe stains, you may need to have a crown or a veneer placed over the top of the tooth.
How can I prevent stains?
It's been recommended that you brush or at least thoroughly rinse your mouth out with water after consuming foods that can stain your teeth. Making sure to come to our office for your regular cleanings and exams can also help to remove stains on the enamel of your teeth.

Please contact Coastal Periodontics, located in Portsmouth, NH, if you'd like to chat with our periodontal expert.