A+
A-
A
Main Content
Common Myths About Dental Hygiene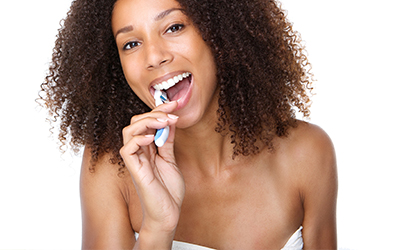 The thought of visiting the dentist can give some people severe bouts of anxiety. In order to mollify this fear of the dentist, some people believe in dental myths. Unfortunately, this could increase your chances of needing dental work, so it's always a good idea to have the correct information. The more educated you are about how to care for your teeth, the less likely it will be that you'll end up needing any scary dental work.
Dental Hygiene Myths
Below are a few common dental hygiene myths and the truth behind them:
The more sugar you eat, the worse your teeth will be – While sugar is very bad for your teeth, it isn't the sugar itself that does the damage. It's the fact that the sugar is not being properly brushed and flossed away, allowing it to eat away at the vulnerable tooth enamel. Someone who eats a high-sugar diet can actually have healthier teeth than someone who eats no sugar. It all comes down to having good oral hygiene.
Whiter teeth are more healthy – White teeth could be hiding dental cavities or infections just as much as teeth that aren't quite so bright. Additionally, white smiles are no indication that the gum tissue is healthy. A white smile could still be hiding gingivitis or other gum problems.
Flossing isn't as important as brushing – Flossing is exactly as important as brushing. Your toothbrush can't reach in between the teeth, which allows plaque and bacteria to accumulate between the teeth. Not only will it decrease the chances of developing dental cavities between the teeth, but it will also help you avoid gum disease.
Avoid brushing bleeding gums – Brushing is not only good for your teeth, but also for your gums and your tongue as well. If your gum tissue is bleeding when you brush, this is a sign that plaque is accumulating along the gum line, causing irritation and inflammation. Brushing twice a day, flossing daily, and visiting your general dentist for a dental cleaning and exam are all great ways to achieve and maintain healthy gums.
Here at Coastal Periodontics, we know that the more educated a patient is, the healthier his or her teeth will be. If you're concerned about the health of your gum tissue, please contact Coastal Periodontics here in Portsmouth, New Hampshire.