A+
A-
A
Main Content
Discolored Teeth and How to Fight Back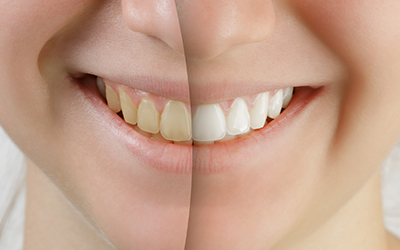 Are a healthy set of teeth and a bright smile too much to ask for? Sometimes, yes. Stains on your teeth and tooth discoloration are very common and can happen for several reasons. Some reasons are beyond our control, such as aging or accidents that could disrupt the tooth's enamel development.
Lifestyle choices can also stain your teeth, such as smoking or even drinking too much coffee. Discussing your oral hygiene with your dentist will give you a clearer idea of your options because teeth whitening is mainly done for cosmetic reasons.
Following is a list of teeth discoloration treatments to combat discoloration of teeth.
Teeth Discoloration Treatments
Following are 5 treatments to combat discoloration of teeth:
Food and drinks
Eating certain foods and drinking certain beverages can cause discoloration of teeth. So whenever you eat or drink, brush or rinse your mouth immediately after to avoid long-term repercussions. These drinks include coffee and tea, and foods could include blueberries and tomato sauce.
Dental Hygiene
Improving your dental hygiene by using brushing and flossing techniques can significantly reduce discoloration. Brush and floss after meals, if you must, and use an antibacterial mouthwash.
Routine Checkups
Visit a dentist or dental hygienist every six months for a routine checkup. For discoloration, dentists can use whitening procedures and recommend over-the-counter whitening agents.
Bonding
A dental expert fuses material to the affected area of your teeth to its shape or color through a procedure called bonding.
Veneers
Veneers are a thin shell of material placed in front of your teeth to change the shape or color, removing the stains from your teeth.
If you are looking for a periodontist in the Portsmouth, NH area, visit our website and book an appointment today.