A+
A-
A
Main Content
Nail Biting Can Damage Dental Braces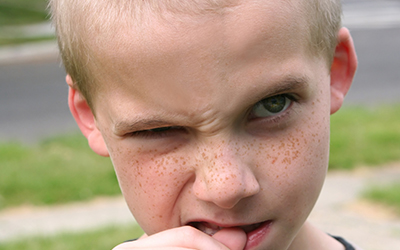 Nail biting has the potential to cause damage to your teeth and mouth in a variety of ways, but especially during orthodontic treatment. Nail biting is a common nervous habit caused by stress, anxiety, boredom, or other emotions. It's been found that around 15% of children and 30% of adults are chronic nail-biters.
How Nail Biting Can Damage Braces
Below are a few of the ways that nail-biting can damage your braces:
Wear Down Teeth – Biting your teeth can wear them down and cause them to shift. If you currently have braces or if you've previously undergone orthodontic treatment, you're risking your teeth becoming crooked again.
Delay Your Treatment – Biting your nails during your orthodontic treatment can slow the treatment down, prolonging the time you'll have your braces on. This is because of the pressure put on the teeth and their roots.
Expensive Fixes – It's been estimated by the American Academy of General Dentistry that it's possible to pay as much as $4,000 over a lifetime as a direct result of a nail-biting habit.
Unsanitary – Lastly, nail-biting is a very unsanitary habit. Your fingernails are twice as dirty as your hands, and they harbor a vast array of bacteria and germs. We don't recommend putting them in your mouth.
The best thing you can do for your teeth, whether you're undergoing orthodontic treatment or not, is to kick the nail-biting habit!
To make an appointment with our skilled periodontics specialist, please contact Coastal Periodontics today. Our office is located here in Portsmouth, New Hampshire.