A+
A-
A
Main Content
Staying Hydrated for Your Dental Health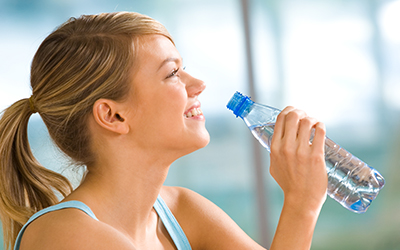 We all know the importance of making sure to drink enough water. Proper hydration is vital to your health! However, we don't hear enough about how good proper hydration can be for your teeth and gums as well!
Why Staying Hydrated Can Improve Dental Health
Below are a few of the many reasons why staying hydrated can improve your oral health:
Water washes away bacteria – Drinking water, especially after meals, will help to rinse away food particles, sugars, and the bacteria that can lead to plaque. Rinsing with water is not a substitute for brushing your teeth, but it can help flush away harmful substances, which will reduce your risk of developing tooth decay and dental cavities.
Water helps to maintain oral health – When you become dehydrated and your mouth is dry, you've created an ideal breeding ground for bacteria. These bacteria will cause dental cavities, gum disease, and even bad breath. In fact, one of the first symptoms of dry mouth is bad breath. If you notice that this is becoming a problem for you, it could be a sign that you need to increase your water intake.
Water helps stimulate saliva – Saliva is very important to keeping your mouth healthy. This is because saliva helps to neutralize the acids that can cause tooth enamel to weaken. Your saliva is needed to coat the teeth and protect the enamel. If you aren't drinking enough water, your saliva production will decrease and this can lead to a host of oral and dental problems.
In addition to brushing at least twice a day, flossing daily, and visiting your general dentist for regular dental cleanings and exams, we recommend making sure you're always hydrated and drinking plenty of water! Not only for your dental health but for your overall health as well!
To make an appointment with our Portsmouth, New Hampshire periodontist, please contact Coastal Periodontics today.