A+
A-
A
Main Content
What Is TMJ?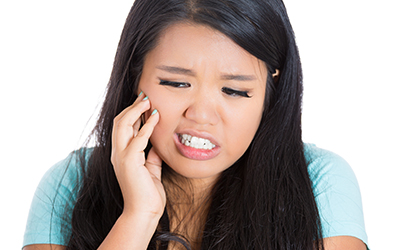 The joint that connects your jawbone to the skull is known as the temporomandibular joint or TMJ. There is one TMJ on each side of your jaw, both of which act as a sliding hinge to control your jaw movement.
TMJ Disorder
A TMJ disorder can cause severe pain in your jaws and affect their movement. It is often difficult to determine the exact cause of a person's TMJ disorder. Various factors such as jaw injury, arthritis, or genetics can lead to TMJ disorders. Another factor that may lead to TMJ disorders is clenching or grinding the teeth too much.
While the pain associated with TMJ disorders can be sharp and unbearable, it can usually be managed with some self-care and nonsurgical treatments. However, if it isn't treated early on, the condition may escalate and require minor surgery.
In order to prevent that, it is necessary to be aware of the early symptoms of TMJ disorders.
TMJ Disorder Symptoms
Following are some of the main symptoms of TMJ disorders that you should keep an eye on.
Pain or tenderness in your jaw.
Pain in one or both of the TMJs.
Unexplained pain in or around the ear.
Difficulty opening or closing your mouth; restrictions in jaw movement.
Finding it painful to chew your food.
Experiencing facial pain without any reason.
Feeling a grating sensation or hearing a clicking sound when you chew or open your mouth.
If you experience any of the above symptoms, visit a dentist immediately. Even if you don't have any TMJ disorders, it could indicate some other underlying cause that needs attention. Catching these conditions early can also help you avoid unnecessary pain in the future.
If you live in Newington, head over to Coastal Periodontics for a consultation today on bone grafting, dental extractions, dental implants, and more.